Masahiro Samurai Swords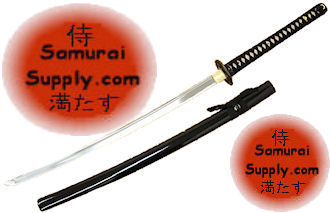 The Masahiro Sword brand is a brand shrouded in a great deal of mystery. As far as research has shown, they have no official website. What we do know is that their katanas tend to be on the lower end price-wise. This makes Masahiro a good start for Iaido or other sword based Martial Arts. For anyone just getting into collecting, Masahiro is a good start. Their blades are good for display or basic Tameshigiri. Masahiro also offers a line of Assemble Yourself Katanas, which allow beginners to learn the parts of the katana sword and how to assemble and disassemble their new blade. For the price, Masahiro offers a good blade without having to spend too much. It's an economical brand choice for collectors and martial artists alike.
At Samurai Supply, we want our customers to be aware of any risks or benefits that come with blades you are purchasing. We feel that trust and honesty are essential to any business, and unfortunately that is not necessarily a sentiment put into practice by a lot of businesses these days. We would like to inform our customers that the Masahiro Sword brand has been reported as being a low quality brand with various inconsistencies in their manufacturing and quality control. While many customers receive good quality blades, others have received blades with some flaws. These problems have included faulty tsuka construction and poor fittings, resulting in a shaky blade. However, we do highly recommend the Assemble Yourself Katana line offered by Masahiro, as they do give newcomers to the world of the Japanese sword a chance to learn the bits and pieces of the blade, and learn proper care and maintenance. This could also be a great start to a customized piece for customers who want to make a unique blade and learn the arts of sageo tying, ito wrapping, same wrapping, etc.
Masahiro Elite Fuji Katana Sword





$83.99




Masahiro White Shadow Katana Sword





$99.99




Masahiro Akagane Katana Sword





$170.99




Masahiro Ancient Warrior Folded Katana Sword





$155.00




Masahiro Elite Musashi Katana Sword





$83.99




Masahiro Elite Kenshin Katana Sword





$83.99




Masahiro Kiriyama Katana Sword





$145.99




Masahiro Sakura Blossom Shirasaya





$115.99




Masahiro Ikusa Folded Katana Sword





$175.99




Masahiro Handmade Bill Hanzo Sword





$139.99




Masahiro Yanagi Katana Sword





$89.99




Masahiro Handmade Kill Bill Sword





$139.99




Masahiro Last Samurai Sword





$104.99




Masahiro Tiger Katana Sword - Black





$85.00




Masahiro White Shadow Katana Sword - Brown





$99.99




Masahiro Sunflower Katana Sword - Black





$74.99




Masahiro Sunflower Katana Sword - Burgundy





$74.99




Masahiro Cherry Blossom Katana - Black





$90.99




Masahiro Cherry Blossom Katana Sword - Burgundy





$90.99




Masahiro Hand Forged Katana- White





$83.99